Singapore, May 28, 2022——KCC (KuCoin Community Chain) announces that the KCC Unicorn Contest has ended with 14 projects winning an incentive prize pool around $1,000,000, including KCC prize and additional rewards provided by jury.
The Unicorn Contest is KCC's first on-chain incentive event in 2022, which is the initial stage of KCC's $5,000,000 Ecosystem Accelerator Program. It aims to discover and support KCC's elite projects from multiple streams and channels. According to the data, a total of 114 projects applied for the Unicorn Contest, of which 49 have successfully deployed on KCC. After an intense data competition, judges' reviews, and community voting, the KCC Unicorn Contest selected winning projects covering the DeFi, NFT, GameFi, Wallet, etc. More details are as follows:
Introduction of Grand Prize Winners: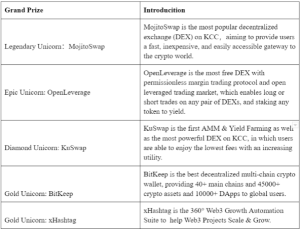 Leandre, the core member of KCC GoDAO Foundation, said, "As an important participant in the KCS's decentralized ecology, we expect to work together with KuCoin in exploring the hidden gem to achieve win-win cooperation and KCS's self-circulating ecosystem. The KCC Unicorn Contest is only the beginning of our plan, followed by a Hackathon and other on-chain incentives. Of course, we will continue to pay attention to the elite projects in this event. Apart from the prize, we would like to provide liquidity support, brand exposure, and other incentives depending on the maturity of the projects. At the same time, as a fast-growing public chain, we welcome quality talents all over the world to join KCC and collaborate in Web 3.0."
By the end of the KCC Unicorn Contest, over 60 projects have successfully deployed on KCC, and the on-chain projects and KCS have achieved in-depth interaction. MojitoSwap, the current largest DEX on KCC, has successfully launched on KuCoin and has also received investment from KuCoin Labs. With more projects developed on KCC, KCS's centralized exchange (KuCoin) and KuCoin Community Chain (KCC) are expected to achieve deep cooperation, providing investors with a one-stop service for crypto investments.
About KCC 
KCC is a public chain project initiated and built by the developer community of KCS and KuCoin, aiming to solve the network latency and high gas fee of Ethereum. KCC is Ethereum-based and compatible with EVM and smart contracts to provide community users and developers with a higher-speed, more convenient, and lower-cost blockchain experience.
Visit https://www.kcc.io/ to learn more.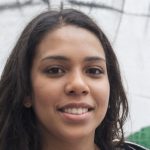 I'm a highly experienced and respected author in the field of Cryptocurrencies. I have written numerous articles and books on the subject, and my work is highly regarded by my peers. I have a strong understanding of the technology behind cryptocurrencies, and I am always up-to-date with the latest developments in the space. I am also an active investor in cryptocurrencies, and I have made a significant profit from investing in this new asset class. In addition to my writing and investment activities, I am also an active member of the cryptocurrency community, and I frequently speak at industry events.