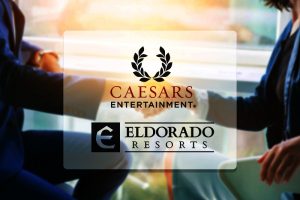 Eldorado to Pay Ticking Fee to Caesars as $17.3 Billion Tie-Up Lingers
Eldorado Resorts must start paying Caesars Entertainment Corp. nearly $2.3 million in daily ticking fees after failing to complete its planned tie-up with the Las Vegas casino and hospitality powerhouse before a previously set deadline.
After months of negotiations, the transaction was announced last June. Eldorado, a smaller regional casino operator headquartered in Reno, Nevada, agreed to pay Caesars 10 cents per share per month if the deal did not close nine months after first announced. The deadline passed this past Wednesday.
Eldorado initially looked to finalize the deal sometime in the second quarter of the year, but according to recent reports, it was on track to close by mid-April.
The Reno-based company offered to pay cash and stock worth $12.75 per each Caesars share last June when the mega-merger was announced. The deal is thus set to create a $17.3 billion gambling powerhouse with around 60 casinos around the US.
Eldorado's proposed takeover needs approval from regulators in all states where the two companies operate. A number of regulatory bodies have given the green light to the combination over the past several months.
The transaction also needs approval from the Federal Trade Commission, which many believe it would get as soon as April.
Coronavirus Could Derail Deal?
According to a regulatory filing, Eldorado is set to be charged a pro-rated share of the ticking fee each day.
A 2018 analysis by law firm Paul Hastings argues that ticking fees in mega-mergers are rare and that even though such penalty fees can push a buyer to progress at a quicker pace, they are somewhat redundant as most such transactions have a penalty clause for not closing. Eldorado would have to pay $836.8 million if it fails to close.
However, Eldorado's CEO, Tom Reeg, is reportedly pressing to close the tie-up. Mr. Reeg will step in as Chief of the combined entity when and if the combination happens.
The unprecedented economic situation created by the spread of the coronavirus has prompted discussions and speculations about whether the transaction would be finalized. Under the terms of the deal, Eldorado cannot use "public health emergencies" to walk out of the tie-up unless such emergencies hit Caesars harder than any other casino operator.
The coronavirus has had a massive impact on casino stocks and the situation has got even worse when almost all casinos around the US closed to help contain the spread of the highly contagious virus.
However, it seems that Eldorado is determined to press forward with the combination. According to insiders, the company held a board meeting in early March, when there were just a handful of confirmed Covid-19 cases in Nevada, and directors agreed to close on the transaction as soon as April 11.
On the other hand, reports emerged at around the same time that banks that had previously agreed to provide more than $7 billion of loans to Eldorado to complete the takeover were faced with an uphill battle to offload that debt to investors as the coronavirus outbreak wreaked havoc in the hospitality industry.
Last June, JPMorgan, Credit Suisse, and Macquarie agreed to provide finances for the mega-merger, but they are now said to be grappling to convince bond and loan buyers to lend to a highly leveraged casino and hospitality company in the current situation.
And if the banks fail to secure takers, they might have to offer the $7 billion debt at a steep discount or event produce the cash themselves, which would burn a big holes in their balance sheets.
Source: As Caesars Deal Lingers, Buyer Faces $2.3 Million a Day in Fees
Follow us on Facebook and Twitter to stay up to date on the day's top casino news stories
Related News